Part no.: 86 4531 1002 00005
M12-A Male panel mount connector, Contacts: 5, unshielded, solder, IP67, UL, PG 13.5
M12, series 763, Automation Technology - Sensors and Actuators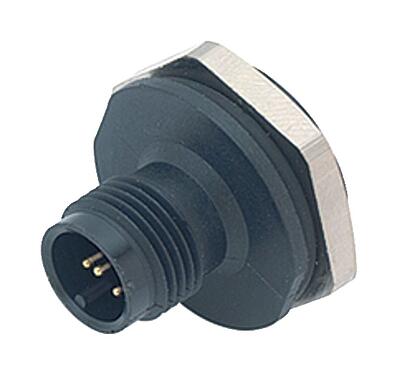 This male panel mount connector with screw locking and a pin count of 5 is according to its protection class IP67 Dust-tight and has complete protection against contact and protection against temporary immersion. It can be used in areas with a pollution degree of 3. In places where contamination can occur that is conductive or can become conductive through condensation. With temperatures ranges of -40 °C/85 °C is this unshielded M12-A coded male panel mount connector designed for both severe cold and severe heat. und has the UL approval. Due to the qualified rated voltage of 60 V and the rated current of 4 A (3 A UL) it is perfectly tuned for its field of application. It complies with the type standard DIN EN 61076-2-101.
General Disclaim Notice
The connector must not be plugged or unplugged under load. Non-observance and improper use can result in personal injury.
The connectors have been developed for applications in plant engineering, control and electrical equipment construction. The user is responsible for checking whether the connectors can also be used in other areas of application.
The user must take suitable safety precautions to ensure that the connector cannot be accidentally disconnected.
Plug connectors with enclosure protection IP67 and IP68 are not suitable for use under water. For further information on the IP protection classes, please refer to the "Technical Information" download centre.