Part no.: 09 0062 70 05
Bayonet Female panel mount connector, Contacts: 5, shieldable, solder, IP40
Bayonet, series 690, Power Connectors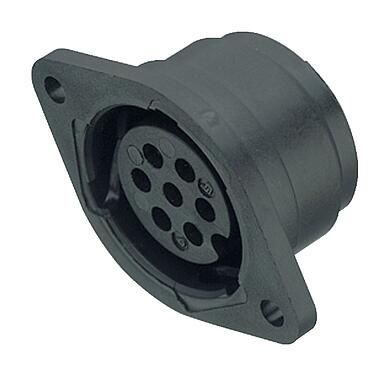 This female panel mount connector with bayonet locking system and a pin count of 5 is according to its protection class IP40 protected against solid foreign bodies and against access with a wire. No protection against water. It can be used in areas with a pollution degree of 1. In places where there is no or only slight, but non-conductive soiling. The pollution has no influence. With temperatures ranges of -40 °C/85 °C is this shieldable bayonet female panel mount connector designed for both severe cold and severe heat. Due to the qualified rated voltage of 250 V and the rated current of 10,0 A it is perfectly tuned for its field of application.
General Disclaim Notice
The connector must not be plugged or unplugged under load. Non-observance and improper use can result in personal injury.
The connectors have been developed for applications in plant engineering, control and electrical equipment construction. The user is responsible for checking whether the connectors can also be used in other areas of application.